There are two things that I find vital to blogging and particularly fashion blogging: design & photography. I understand that not everyone has a dSLR or a nice lens, but good looking photos are necessary. While I have dSLR, a fancy lens, and Photoshop CS5, I figured I'd do a little tutorial on how to use the online editor Picnik. The website is super easy to use, has pre-set edits, and is a great place to make fancy collages that many bloggers use.

I'm going to use the very first photo for my blog. It was taken with a basic dSLR with a kit lens. It's quality is not the best. You can't magically make photos better, but you can edit the color, exposure, and give it a vintage vibe. Which makes the photos pretty in a different way.


First, open up a photo and play with the exposure.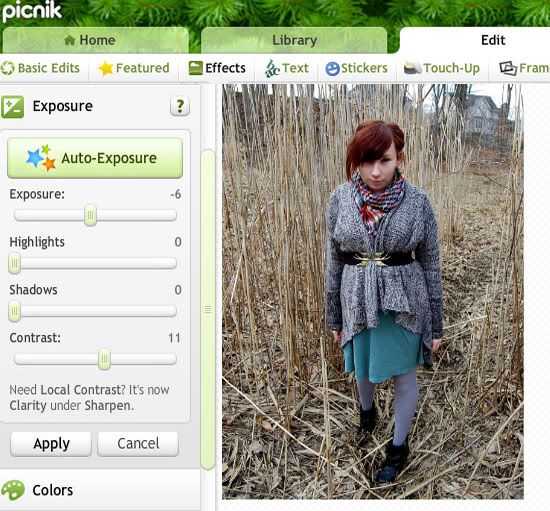 I go straight to the exposure. Each photo is different and it's not an exact science, play around, move the levels until it brightens or darkens or does whatever the photo you have needs. You can use the auto exposure button, but it can be off. Sometimes, however, it's perfect. As you can see from the original photo, the exposure brighten and sharpened the color giving it depth.

Secondly, go for the colors.

Again there is no exact way to do this. Play with saturation and temperature. Don't play with just one, play with both and let them work off of one another. This takes the photo from gray and bland to having a warmer tone.
Thirdly, Picnik provides a bunch of pre-set edits.
It's kind of like Insta.gram and each of them are pretty cool depending on your preference. Picnik allows you to play around with the intensity so that you can have it dominate or just add a little fun. I picked Cross Process because the yellow tint is really fun and makes the photo pop.

It's really a matter of playing around with the pre-set edits, but once you fix the temperature and exposure, your pictures are already going to look a LOT better.