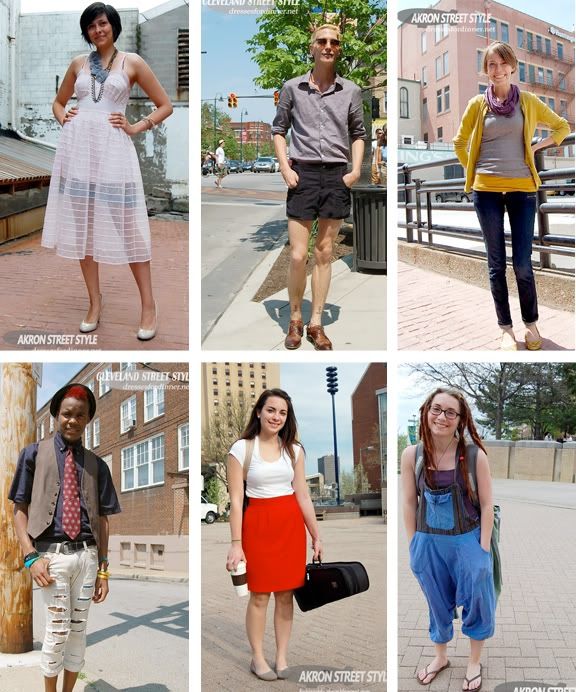 Street style can be intimidating. You're going up to well dressed strangers, interrupting whatever they're doing, to proposition them. They might be creeped out, they might say no, and you might fumble over your words.

Anna and I have had our fair share of all of those. Anna is the talker. I'm the photographer. Sometimes (most times) she does both and I merely help scope out beautiful people.

But here's what we've learned and how we've grown successful at it.

1. Pick an event/location where there will be fashion forward people
For the first one we did, we scouted out campus. Which worked out strangely well, but most people are busy and in sweats. With events like Cleveland Fashion Week and Noto's fashion show, the success rate was much higher.

2. Even if it's not your style...
Doesn't mean it's not stylish! Think outside of the fashion box and particularly you're fashion box. Recognize that fashion is well, fashion.

3. Have a pitch
Be prepared. Don't walk up to a stranger with nothing planned to say. Ours goes something like this, "Hi, we run a fashion blog and we do a street style feature. We really like your outfit and we were wondering if we could snap a couple photos?" The people are usually flattered.

4. Give tips if needed
A couple of times the subjects were confused on how to pose. I'm still confused on how to pose and I've been doing this for awhile now. So, if someone says, "How should I stand?" Give them a pointer. Like, "A little to the left. Arch your back. Tilt your head." Points along those lines. You'll look like a professional and they'll feel comfortable.

5. Take at least three shots
It's a bummer to get home and realize that none of your shots are useable. When taking pictures for my blog, I take anywhere between twenty and a hundred. There has to be photos to work with. Take three shots, different poses and angles. Cover the bases.

6. Thank them, give them a business card, and tell them to keep checking back for the photo
Make sure to thank them for their time and allowing you to take their picture. Have a business card ready. If they have something tangible to look at you look official and they don't have to worry about remembering. Not giving them a definite post date ensures they'll be coming back. And chances are, they'll tell their friends.

7. Post photos within a time frame
Don't wait months to post the photos or the people will forget. Typically within the month is a good length of time.

8. Look to your friends!
Your friends are probably fashionable, right? There's nothing wrong with asking your friends to pose for you. It's an easy way to get familiar with taking photos of people not accustom to outfit posts.

Side note: To avoid awkwardness, don't approach groups of friends, if you don't want to photograph all of the group.

Also watermark your photos! If the person shares them, your credit will never be lost, and people can go back to the source.

Want to see more? Here's our archive of street style.