Swapping clothing is a fun and interactive way to get more involved in the blogging community, especially with bloggers in this state! The swap is a fun way to try out clothes one wouldn't typically purchase and a way to keep ones wardrobe fresh without spending money. (Well, other than on shipping.) I would highly recommend joining the Ohio Blogger Swap. It's a great way to meet and connect with bloggers through a mutual bonding ALL women have...clothes! Want to get involved? Click here for info on joining! Not from Ohio, but still interested in joining? Follow the same steps and we'll consider you, too!

This swap was started by Jessica and Lauren.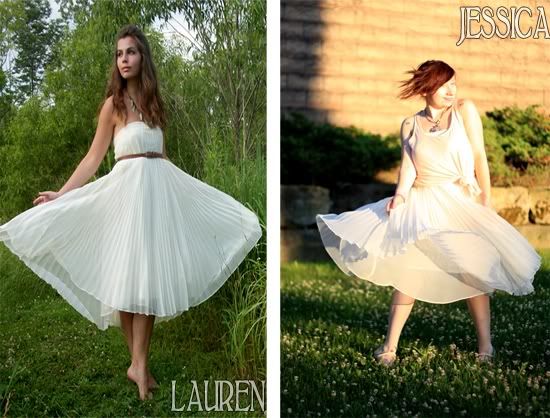 The first item swapped was a lovely thrifted skirt of Jessica's.

I, Jessica, loved this skirt because it's so dreamy, flowy, and beautiful. I instantly felt like a princess. I wanted to spin around in circles forever and ever. It's technically a skirt, but on me a dress. Maybe sometime I will wear it as a dress. Which is exactly what Lauren did.

Jessica's original post here.


Something about this outfit just totally worked for me. It was so carefree and easy. I didn't have to put a lot of work into it and yet I still felt beautiful and put together (which is rare for me because I usually have to get really dressed up to feel beautiful) I just let my hair go natural, wavy, and messy. I kept my jewelry simple and to a minimum. Makeup was almost non-exsistent. Shoes weren't needed. The sunlight was just perfect and beautiful and warmed me all the way into my heart and to the tips of my face. When I looked up into the soft lighted sky into the fading sun I thanked God for everything he's given me. I'm the luckiest girl in the world.

Lauren's original post here.